Welcome to Red Ace Press. We are an independent publisher, offering the finest books from our most promising authors.
Featured book:
Trailblazer: My Quest to bring Trangender Equality to Corporate America
A memoir by Mary Ann Horton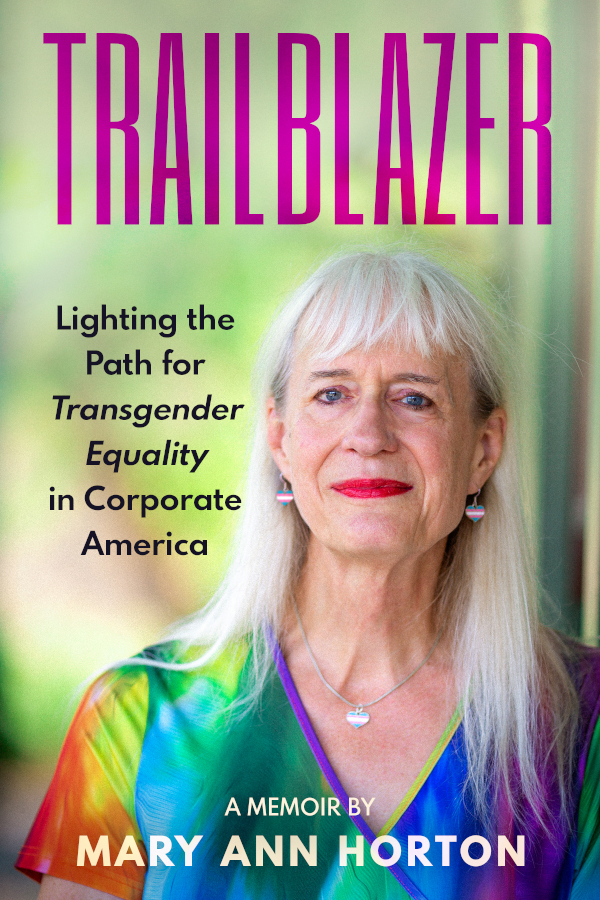 "This is a great book about an amazing journey of a woman who went through hell to become the person she is today." – Monica Helms, creator of the transgender flag.
"Brave and Important – Don't miss the wonderful book!" – Laura L. Engel, author of You'll Forget This Ever Happened-Secrets, Shame, and Adoption in the 1960s
"We are proud of the work she has done for setting the foundation of today's Nokia's LGBT+ inclusion and being a trailblazer of transgender rights at the workplace." – Anneli Karlstedt, Head of Inclusion & Diversity NOKIA
"Mary Ann Horton is indeed a trailblazer: in her professional life as in her life of faith, she has provided us with a model for courageous, thoughtful, principled engagement with questions of life, faith, marriage, and gender identity. My respect for her, and the life she has carved out for herself, is immense." – The Rev. Guy Erwin, the first openly gay bishop of the Evangelical Lutheran Church in America
"But transitioning within a job is not always possible. And for those who cannot seamlessly "pass" or "go stealth," there is the question of whether to address the topic directly or wait until a job offer is made. Ms. Horton first faced that choice in 2001, when she looked for a new job … after a decades-long career in computer administration in Ohio as Mark Horton." – The New York Times
It wasn't about being first. Mary Ann just pushed for workplace acceptance and equality. She didn't just do it for herself but blazed the trail by holding down the grass for others to follow." – Amanda Simpson, former deputy assistant secretary of Defense for Operational Energy for the Obama administration, the first openly transgender woman political appointee of any presidential administration
"Mary Ann Horton changed how we communicate, pushed companies to add gender identity and gender expression to non-discrimination policies, and fought for transgender health care." – The Daily Beast
"Beyond her technical achievements, Horton deserves notice for her efforts in speaking up for the rights of transgender people in the workplace, which started when she was at Lucent in the 1990s. She helped set the stage for some major changes in the corporate world, particularly in Silicon Valley." – VICE
"Mary Ann Horton brings a freshness, a delightful honesty, and clarity to her descriptions of self-discovery…"—Jamison Green, author of Becoming a Visible Man
"Mary Ann has been, for nearly 40 years, my invaluable and treasured mentor on transgender issues in the workplace. This very fine book gave me all the personal stories I still needed to fully understand and appreciate her sacred, trailblazing, hero's journey." – Brian McNaught, author of Brian McNaught's Guide to LGBTQ Issues in the Workplace
"Mary Ann Horton is a pioneer of self-discovery. This is one of the most powerful memoirs I've ever had the pleasure of reading, and highly recommend it. Mary Ann's leadership in the workplace and in the LGBTQ community has paved the way for others to be brave as well." Erin Branscom, Author of My Level 10 Life
"…illuminating, enlightening reading highly recommended for memoir audiences." – Midwest Book Review
"This exceptional read deals with the fortitude, joy, and often the loneliness of a strong and resilient person going through personal challenges and identity issues. Throughout her story Mary Ann searches for who she really is, and readers walk along side of her as life knocks her down and she pushes forward… Readers will cheer Mary Ann on and rally for the causes of this caring woman as she learns through trial and error how to become the woman her soul demands and deserves." – Laura L. Engel, President, International Memoir Writers Association
"Mary Ann Horton … secured non-discrimination protections for transgender employees, marking a groundbreaking moment for transgender workplace rights." – VICE
"This book is a beautiful and practical expression of her faith. Through pain and forgiveness, ignorance, judgments and assumptions of others, Mary Ann chooses to be fully herself and to value others for who they are as she educated others to do the same." – Beth Allen Slevcove – author of Broken Hallelujahs – Learning to Grieve the Big and Small Losses of Life